This week Sean is was a Stock Picker for Horowitz & Company.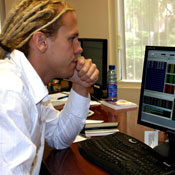 Marketplace Money: Can't decide what to do with your work life? Who says you have to? We meet Sean Aiken, who is trying 52 jobs in 52 weeks. This week: stock picker.
It is not quite live, or even recent. In fact, it was weeks ago that reporter Heidi Pickman arrived at my office to interview Sean. This is the first time I listened to MarketPlace Money and I am curious: Is it me or does it seem that everyone on the show had slowed the speed of their voices?
Good interview of Sean as he discusses his jobs and his experience with the Naked News. (Sean starts at 29:00)
Make sure to listen to, then comment back on this…..Really want to know what you thoughts are.
The interview of the author of a book on China investments needs to be played as well…. Is this guy talking or did he provide words that are pieced together? Where do they get these guests? He is recommending China Funds! I can only think that the interview was found in the archives and pasted into the audio. (34:00)
YOU HAVE TO LISTEN TO THIS! A RIOT! If this is mainstream financial media it is no wonder why we are in such economic trouble as a country. Did host Tess Vigeland say to one guest that since he is teaching finance he is doing "God's Work?" Am I doing God's work?
"Sleep at night factor," "You get what you pay for," and "Not look a gift horse in the mouth" are all engaging phrases that are discussed throughout this action packed show.
At least they put me in the interview (no audio credit) and did link back to us on their website.
Warning Will Robinson: Have coffee first ZZZZZZZzzzzzzZZZZZZZ.
Podcast: Play in new window | Download (24.0MB)
Subscribe: iTunes | Android | RSS | More
8:00am on Day 3 and Sean was energetic and ready for the what the day would bring. We went to the office with a full schedule ahead of us and planned out the details, looked at the pre-market news and set out to fund a few opportunities. This day we had the added challenge of fitting in an NPR reporter who was coming to interview both of us and to find out more about Sean's projects well as a podcast interview with Jim Jubak of Microsoft's MoneyCenteral.
As the NPR interview was closing and we were wrapping up, Sean came across the opportunity of what looked like a potentially profitable trade into Crocs (CROX). Looking at all of the data, he felt that the stock was poised for a bounce, even thought the overall market had been weak that day. The stock was then sitting at $41 and had shown a good deal of support at that price.
As we were still working on a few other items on the daily to-do list, we initially passed it up even though Sean was getting a bit anxious watching the price action. It wasn't until it moved up towards $41.30 that a confirmations signal was clearly reached. We bought a small position to see how it would play-out.
It turned out to be a short-hold as the market was becoming more volatile throughout the day and the position was not moving at all from its support level. We made the decision to abandon the position for no-loss and no-gain. (FYI: Sean was right in his assessment of the position and if we had held it, we would have ended the day with a $1 per share profit on that trade)
Other than that, we had 5 successful trades for a nice profit and decided that the markets would have to wait as we had two important meetings that required some preparation. Over all, the day was productive and Sean put to work many of the important lessons learned about trading stocks. Tomorrow will be his final day as he is headed north in search of the perfect baked cake.
(Note: All trading and stock transaction were done under the direct supervision of Andrew Horowitz and no client money was used in any of these trading lessons/simulations)

Sean got an early taste of the dreaded Miami/Interstate 826 traffic today. Stuck for over an hour in bumper-to-bumper traffic he arrived late at the office at 9:45am. Even with this setback, he was ready and willing to roll up his sleeves and get going, so we dug right in.
We started the day by looking at the many economic and news items that would shape the day and found a few interesting positions that would would look to enter. Overall, we have traded over $1,750,000 in a day-trading style and have total net profits of $5,500. Looking at the trades, we tallied a total of five up and one down. Interestingly, the down was on a small position that was entered into after we chased a news item on an earnings release. Never a good idea.
Mid-day, he seemed ready. So, we both decided that Sean would take the helm with 3,000 long shares of Countrywide (CFC). Initially, he looked to exit at a price that he determined was the upper limit of the trading range. One of the lessons we went through today was the fact that he must leave emotions a the door before he comes in to trade. In his words, " it is a hard thing to separate the emotions as it is so high powered and so intense. This is a real rush and the second I took over the trading platform for CFC, it was like a jolt of electricity passed through me," he explained.
In the end, we made about $.12 per share on the trade and the "net" after commission profit was $350 . This was donated to the charity for the One Week Job project. Sean is a quick learner and he has a real knack for finance. We spent a good amount of time on the Level 2 trading platform and the explanation of the various components as we were busy reviewing portfolio positions as well as longer term opportunities.
Tomorrow we are planning on a very big day. NPR interview in the morning, taping The Disciplined Investor
Podcast in the early afternoon, and then off to afternoon meetings and more interviews. Should be a day full of learning and a heap of caffeine. The first thing on our agenda though, will be to make sure that all of our client positions are in good shape and that there is no news that could be a negative influence on those stocks within H&C client portfolios.
As it is getting close to the end of the year, we will begin to look through portfolios to find and "harvest" tax losses to offset gains for clients. This is always the plan starting in early November. Even though loses are something that we attempt to avoid, sometimes it is simply smart to take the loss and move on. This is why the practice of diversification and some form of risk management is one of the key components when managing portfolios.
We have a new employee – but, he's only staying one week!
After graduating from college in 2005 with a Business degree, Sean Aiken made a promise to himself that he would not settle for a career that he was not truly passionate about. Not realizing what this type of career would look like, he started, www.OneWeekJob.com in order to gain a better understanding of where his passions lie and inspire others to go after their passions.
Basically, anybody anywhere in the world can offer him a One Week Job. He is doing 52 jobs in 52 weeks with all his wages donated to charity.

Some of his previous One Week Jobs throughout North America have included: Advertising Executive, Dairy Farmer, Yoga Instructor, Florist, Job Recruiter, Veterinarian, Radio DJ…And now, in Week #33 of his journey, he is a Stock Trader/Investment Advisor with Horowitz & Company. This week he will be honing his skills in the areas of economic theory, basic finance and investment management by researching and trading stocks, bonds and mutual funds.
Graduating top of his class with a Business Administration degree, Aiken sees many signs that his generation is putting off the transition into adulthood – taking longer to finish university, get married, move out, start a family and to enter the work force. In a world where there are so many possibilities, the weight of all the possibilities can be overwhelming," he says.
"Each day, we will be working on a different facet of this job." said Horowitz, his 33rd employer. "The market's daily gyrations movement and continual changes in the economy will help to make this a very interesting week," Horowitz added.
All of the monies Sean receives will be donated to the Make Poverty History campaign and donations are highly appreciated. We will chronicle Sean's experience daily via blog posts audio and video and have a call-in show later this week. Stay tuned.